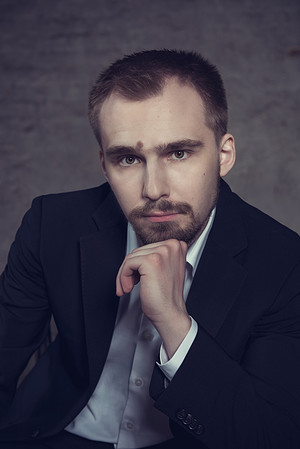 "He is an extraordinarily gifted young pianist and a very interesting musician"
"I respect his vision of music, which is very honest and deep"
Pavel Gililov, professor, prizewinner of International F.Chopin Piano Competition

"Extremely talented"
Jacques Rouvier, professor, prizewinner of M.Long-J.Thibaud International Competition

"Bright abilities for stilistical diversity, performer's fantasy"
Boris Petrushansky, professor, prizewinner of Leeds and ARD Competitions


Anton Rosputko is a pianist born in Jūrmala (Latvia) in 1993. He has won prizes at many international competitions, like: 1st Prize at the International competition for young pianists «Gradus ad Parnassum» (Kaunas, Lithuania, 2004); 2nd Prize at the 3. Open Russian competition for young pianists (Kaliningrad, 2005); 3rd Prize at the International Competition for young pianists "Virtuosi per musica di pianoforte" in Ústí nad Labem (Czech Republic, 2005); Schumer prize at the International Competition for young pianists in Enschede (The Netherlands, 2006); 2nd Prize (2007) and 1st Prize (2010) at the International competition for young pianists "Jūrmala" (Latvia).
His main mentors have been Tatyana Pavlyuchenko, Jānis Maļeckis, Pavel Gililov and Boris Petrushansky.
Anton Rosputko received a prize of the Ministry of Culture of the Republic of Latvia in 2005, 2006 and 2008, as well as Latvian Award "Recognition" in 2009. In 2012 he received the scholarship of "Hübel" Foundation. He is a prizewinner of the Mozarteum International Summer Academy (Salzburg, Austria, 2009), the participation at a gala concert of which gave him an opportunity to take part in the famous Salzburg Festival. Anton Rosputko has taken part at the masterclasses of Armen Babakhanian, Arkadiy Sevidov, Pavel Gililov, Sergej Maltsev, Anatol Ugorski, Peter Tacács, Jacques Rouvier, Matti Raekallio, Siegfried Mauser, Wolfgang Manz, Boris Petrushansky and Denis Proshayev.
Anton Rosputko was a participant of the Kaunas Festival in Lithuania in 2006 and 2010. As a soloist with orchestra he has performed with Latvian National Symphony Orchestra and Normunds Vaicis, "Sinfonia Concertante" Orchestra and Andris Vecumnieks, Kaunas City Orchestra and Modestas Pitrenas, Liepāja Symphony "Amber Sound" Orchestra and Tadeusz Wojciechowski. Anton Rosputko has performed in Latvia, Lithuania, Russia, the Czech Republic, Germany, Austria, Italy, Liechtenstein, Switzerland and the Netherlands. The halls where his performances have taken place include the Great Hall and the Vienna Hall of the Mozarteum Foundation, the Solitär Hall of the Mozarteum University, the Great Concert Hall of the University of Music and Performing Arts Munich, the Great Hall of the University of Music and Theatre »Felix Mendelssohn Bartholdy« Leipzig, the Concert Hall of Kaliningrad Regional Philharmoniс Society, the Great Hall of Kaunas State Philharmonic Society, Riga House of the Blackheads, Riga House of Moscow, the Great Hall of Latvian National Opera, and Dzintari Concert Hall.